Free public WiFi to continue in Melbourne's CBD
Published: 6 June 2022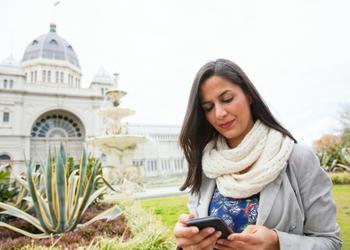 Free WiFi will continue to be available in the CBD for Melburnians and tourists alike with the service being extended for another two years.
The Victorian Government's VicFreeWiFi service is available outdoors at more than 400 hotspots across the CBD, including at all train stations, Bourke St Mall, Queen Victoria Market, and South Wharf Promenade at the Melbourne Convention and Exhibition Centre.
VicFreeWiFi is managed and maintained by telecommunications company TPG. It allows users to access up to 1GB per day per device, free of advertising and without the need to log-in or submit personal details.
Free public WiFi makes it easier for those in the CBD to access public transport timetables as well as booking nearby restaurants and tickets to major events.
The VicFreeWiFi pilot in Melbourne launched in 2016 and was one of the largest free public WiFi networks of its kind in Australia.
Since then, the Melbourne service has been used more than 45 million times with more than 430 terabytes of data downloaded.
Free public WiFi is also available in Ballarat, Bendigo and Shepparton, and work is underway to deliver free WiFi networks in Geelong, Latrobe Valley and Ararat.
To find the VicFreeWiFi hotspots in Melbourne's CBD visit: Find VicFreeWiFi.