Ararat now better connected with free public WiFi
Published: 26 October 2022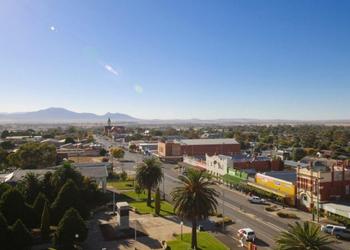 Residents, businesses and visitors in Ararat now have access to free public WiFi and a 'smarter city', helping to bridge the digital gap by ensuring everyone has access to free internet.
Fast, free public WiFi and high-speed smart city fibre connectivity has been launched in Ararat, thanks in part to a $1.56 million grant through a Victorian Government initiative to improve connectivity in regional Victoria.
In partnership with Telstra, Ararat Rural City Council has made 42 WiFi hotspots live in key economic, tourism, recreation and cultural places, including Ararat's retail precinct in Barkly Street, the Alexandra Oval Precinct and Gardens, the Ararat Active Corridor, and the Visitor Information Centre and Library. More access points will be switched on soon, including several in Lake Bolac by the end of the year.
This project is leading the way globally in providing public connectivity, including by using Wi-Fi 6 – the next generation of WiFi that brings faster speeds and less network congestion. In an Australian first, Ararat will also benefit from an open-roaming trial that will allow users to seamlessly switch between mobile and WiFi networks.
Both these initiatives will make the network more resilient in times of emergencies, ensuring people can make phone calls and access internet when they need to most.
The partnership with Telstra also includes enhanced fibre connectivity, which will give Ararat Council access to 'smart city' technology. Smart cities use the Internet of Things to manage resources and services more efficiently. As part of this project, Council and Telstra are trialling smart technology like real-time environment and traffic monitoring, waste management and CCTV.
Free public WiFi is also available in Ballarat, Bendigo, Latrobe, the Melbourne CBD, Geelong and Shepparton. Through the $550 million Connecting Victoria program, improvements to mobile coverage and broadband access will continue to be fast-tracked across the state.
To find out more, visit Connecting Victoria.
Page last updated: 26 October 2022