Why Gippsland
The CarbonNet project will support the decarbonisation of industry in Gippsland.
Gippsland is very suitable for Carbon Capture and Storage (CCS), as it provides:
A world-class petroleum basin.
An excellent geological storage site that is independently certified.
Fifty years of data from the oil and gas industry.
Proximity to industrial hubs and emerging hydrogen industry.
A highly skilled workforce.
World Class Location
The offshore Gippsland Basin is recognised as a world-class location for CCS.
The 2009 Carbon Storage Taskforce report, National Carbon Mapping and Infrastructure Plan – Australia identifies the offshore Gippsland Basin as containing the highest quality and largest capacity CO2 storage reservoirs out of 25 major geological basins across Australia.
A CCS hub in Gippsland enables the establishment of new industries in the Latrobe Valley and a significant reduction in carbon emissions in Victoria.
The site selection process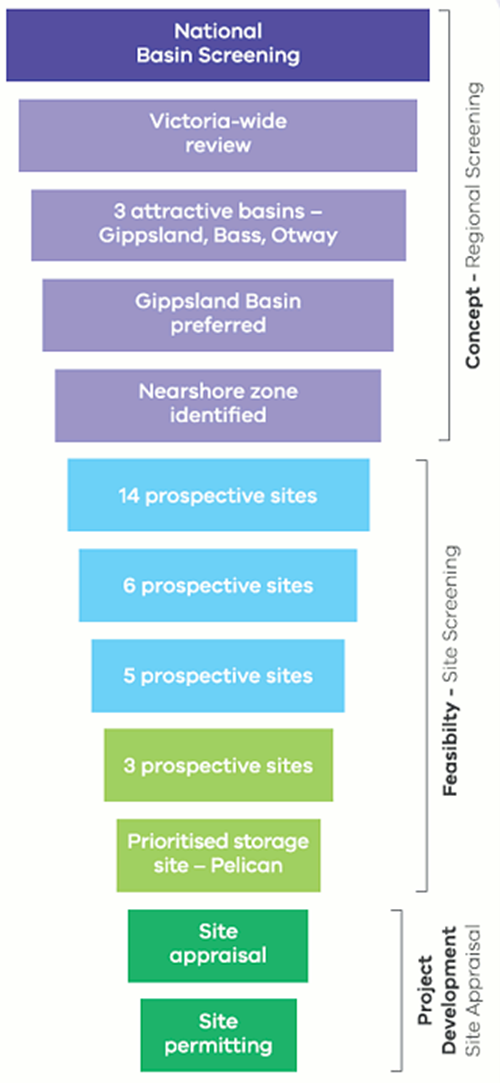 The site selection process diagram representing the Gippsland storage site selection process describing a funnel process with each level narrowing as it moves down the diagram.
The first segment, labelled Concept – Regional Screening, includes National Basin Screening, Victoria-wide review, 3 attractive basins – Gippsland, Bass, Otway, Gippsland Basin preferred, Nearshore zone identified.
The second segment labelled, Feasibility – Site Screening, demonstrates how the prioritised storage site – Pelican was narrowed down to from 14 prospective sites.
The third segment labelled, Project Development – Site appraisal, includes site appraisal and site permitting.
Choosing a storage site
Since 2010, extensive scientific investigations have been undertaken to identify potential geological storage sites across the Gippsland Basin.
Detailed 3D geological models of the Basin enabled geologists and reservoir engineers to analyse a number of sites and to predict the behaviour of CO2 throughout the storage process, from injection to migration and stabilisation.
Initially, 14 sites were identified in the nearshore area. This was eventually reduced to three, with Pelican prioritised as the first CarbonNet storage site and Kookaburra as the second.
Modelling of the sites was independently reviewed by:
Modelling was also externally certified by world-leading CCS experts from Det Norske Veritas.
The sites were evaluated using similar methods to those used by the oil and gas industry, with a focus on safe and secure long-term CO2 storage.
Page last updated: 17 July 2023