From Moorabbin to space: How the F-35 is taking Victoria to the world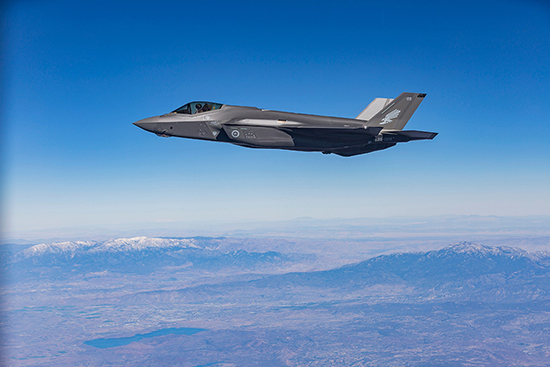 The F-35 is the most advanced fighter jet in the world – renowned as a true embodiment of precision engineering. But what's lesser-known is that over 700 of its critical pieces are manufactured in Victoria.
In one of Australia's most significant aerospace and defence manufacturing projects to date, Moorabbin-based precision engineering operation Marand became the Original Equipment Manufacturer (OEM) for the breakthrough F-35 engine trailer (exported to over 10 countries), and now holds the critical assembly role for over 700 highly technical parts to ensure the fighter is mission-ready, anytime and anywhere.
But they don't do it alone. Marand's partnerships within Victoria's incomparable local supply chain make the F-35 – and a host of other global innovations – possible.
A network of note
Marand CEO Rohan Stocker says that Victoria's deep and diverse supply chain can deliver on everything from complex surface treatments and world-capable precision gears to castings and testing.
"Every element of our F-35 programme is carried out by a network of local specialists, without having to leave the state. From castings made in Dandenong by AW Bell to world-capable precision gears from flight specialists Ronson Gears in Highett, we have an entire advanced production line on our doorstep."
On their partnership with Ronson in particular, Stocker says "very few companies in the country – if any – can make these gears, and that partnership has now led to Ronson Gears taking their product to space."
Thanks to R&D undertaken for Marand's F-35 program, Ronson has been able to sell on elements of their innovation to other global primes.
"They helped us with our product, but it was also a stepping stone for them in terms of their access to a global defence and space primes that's led to global success for the business.
"That's true collaboration," says Rohan.
And it's the kind of network effect that all advanced manufacturers around Victoria can claim as a compelling selling point in the world's move towards sovereign supply chains and economic resilience.
Proximity aids precision
With the majority of Marand's supply chain being local, the company is able to iterate on their designs and bring innovations to market a lot faster. Being able to pop down the road to solve a problem with a partner plays a major role in their clients' success, as well as supporting Australia's economic resilience in the face of global supply uncertainties.
"Within 20-30km from Moorabbin is the industrial heartland of Victoria – and the evidence shows that Victoria's network is stronger compared to other states. Where other states strive to get a big product in, and build the supply chain on top of that, Victoria is already set up for business on a global scale – thanks to our history as an old automotive manufacturing hub," shares Rohan.
"We also have the lion's share of manufacturing start-ups, 3D printing, laser deposition and future-orienting businesses – backed by the strength of CSIRO, TAFE and universities. That intersection between historical and future manufacturing skills means Victoria's capabilities are second to none."
Now, driving awareness among Australian leaders in aerospace and defence of local supply strength is the key to unlocking Victoria's true potential.
Increasing local demand
"We have so many successfully exported products being used by other militaries around the world. Now we need to increase local demand to make the most of the testing and assembly facilities available to Victorian businesses."
With support from the DJSIR, Marand established a state-of-the art facility in 1988., purpose built to manufacture F-35 vertical tails in Moorabbin. From here, additional resources were trained and deployed to create more complex aerospace pieces and Marand's team quickly formed a sophisticated, geographically dispersed, and robust supply chain of its own.
"It's one thing to have high-tech capability when it comes to physical assets and equipment, but we also have spatial capabilities in terms of having defence resident in Victoria – we have the land, and the flight test facilities that we can continue to exploit as a world-class solution."
Read more about how the Victorian Government is supporting the state's advanced manufacturing industry.
Page last updated: 27 February 2023