The place to do business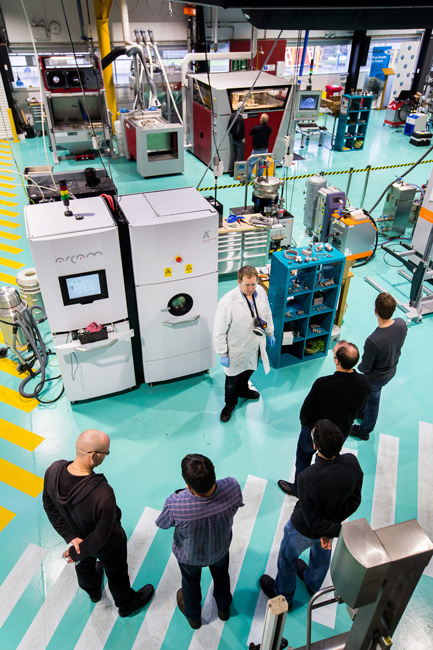 Advanced manufacturing in Victoria is thriving. With a world-leading network of business precincts, research hubs and industry clusters, there's no better place to do business.
There are already 24,000 manufacturing businesses in Victoria, including a growing number of leading multinationals such as Moderna, Boeing, Mars Global, Nissan and Hanwha.
All manufacturers in Victoria benefit from Victoria's strong, resilient supply chains and established infrastructure and distribution centres that provide vital connections to products, customers and the global marketplace.
With a focus on delivering a cleaner, stronger and smarter economy Victoria is the driving force of advanced manufacturing in Australia.
Connection and collaboration
Victoria is home to a network of precincts, hubs and clusters that support connection and collaboration between businesses, industry and research.
These networks demonstrate the Victorian Government's focus on building local capabilities in low-emission, digital and advanced manufacturing technology – as well as capturing opportunities in the health technology, defence, and food sectors.
Victoria's Business Precincts create liveable and sustainable neighbourhoods with vibrant communities, affordable housing and quality jobs. They drive innovation in new technologies and advanced manufacturing capabilities, building skills and expertise across the workforce.
Fishermans Bend
Fishermans Bend is being developed as a national engineering and advanced manufacturing hub and urban renewal area, with the government-owned Fishermans Bend Innovation Precinct to be an internationally renowned centre for innovation in advanced manufacturing, engineering and design. The precinct will ensure Victoria remains a powerhouse in manufacturing and support thousands of high-value jobs in defence, aerospace, clean energy and transport sectors.
Cremorne Digital Hub
The Cremorne Digital Hub will support Cremorne's development into a vibrant, world-class centre for technology and innovation, building capacity and capabilities that will benefit advanced manufacturing along with the rest of our modernising economy.
Advanced Fibre Cluster
The
Advanced Fibre Cluster
is an initiative of a group of highly innovative companies and organisations centred around Deakin University and the Geelong region, accelerating the growth of Australian advanced fibre and composite fibre capabilities.
Australian Medtech Manufacturing Centre
The Australian Medtech Manufacturing Centre (AMMC) is a $20 million Victorian Government initiative that will support the growth of medical technology manufacturing in Victoria, creating new jobs, enhancing skills and increasing investment. The AMMC will help underpin Victoria's leading global position in life sciences and medical research.
Parkville Biomedical Precinct
The Parkville Biomedical Precinct is Australia's world-renowned biomedical research hub. It is home to the University of Melbourne and an impressive group of industry leaders including world-class hospitals, medical research institutes and biomedical organisations.
AgriBio Centre for AgriBioscience
The AgriBio Centre at La Trobe University is Australia's first integrated agricultural systems biology research centre and one of Australia's premier state-of-the-art agribioscience facilities, with a key emphasis on supporting and protecting Victoria's agricultural sector by focusing on advanced research to improve productivity, fight disease and reduce environmental impact.
Defence Science Institute
The Victorian Government is a joint funder of the Defence Science Institute (DSI) within the University of Melbourne. With a deep network across Australia's science and technology landscape, the DSI helps to build defence science research networks, facilitate collaborations and assemble multi-disciplinary teams including scientists, engineers, and researchers from industry and the academic community.
Page last updated: 16 November 2023