Manufacturing Statement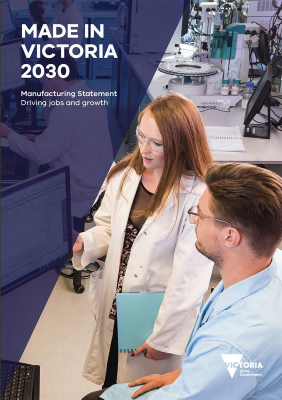 Made in Victoria 2030– Manufacturing Statement sets out the Victorian Government's priorities for enhancing sovereign advanced manufacturing, attracting and stimulating investment, and creating new jobs for Victoria.
Made in Victoria 2030: Manufacturing Statement Made in Victoria 2030 Manufacturing Statement (PDF 3472.17 KB)

Made in Victoria 2030: Manufacturing Statement Made in Victoria 2030 - Manufcturing Statement(1).docx (DOCX 527.81 KB)

The future is Made in Victoria
Manufacturing in Victoria today is flexible, digital, internationally connected and strongly grounded in the state's strengths in research and innovation.
Victoria knows how to build vibrant, home-grown manufacturers and how to attract leading multinationals and their supply chains to locate here as a foundation for their, and our, success.
Such international companies, all with a strong presence here, include Moderna, Boeing, Alstom, Mars Global and Hanwha.
As the world moves into a new era defined by localised, zero emissions, and more advanced manufacturing, Victoria can lead the way.
We will do this by building on our existing strengths and supporting Victorian manufacturers to invest in advanced technologies, skills and business models.
These capabilities are relevant across the whole of manufacturing, and the Victorian Government is backing all manufacturers to become more advanced and competitive through smart adoption of new approaches and techniques.
The Victorian Government is committed to supporting local manufacturers to succeed and to create highly skilled, high-value jobs that deliver greater prosperity for Victorians.
Industry priorities
In addition to building advanced manufacturing capabilities across the economy, the Government will also prioritise actions in the following five sectors.
These areas offer the most significant opportunities for advanced manufacturing. Opportunities in these areas will guide future investments in Victoria's advanced manufacturing capability.
More than 6,000 Victorians are currently employed in zero emission industries such as wind and solar. The number of jobs is projected to jump to 30,000 by 2030. Investments in zero emissions products and technologies are creating huge opportunities for Victorian manufacturers.
Victoria's $21.4 billion health technologies sector is a global leader in research and manufacturing. The sector exports $3.5 billion in pharmaceuticals (more than 60 per cent of Australia's pharmaceutical exports) and employs 31,400 people. Much more can be done, building on Victoria's existing leadership, to ensure a larger share of essential health product needs are sourced from local producers.
Victoria's $36.9 billion food manufacturing sector accounts for a third of the state's manufacturing output. It exports over $9 billion in manufactured food and beverage products annually and employs more than 74,000 people. Victoria is becoming an international leader and a global hub for advanced and sustainable food production, agrifood technology and innovation.
Victoria's $8.4 billion defence, aerospace and space sector supports exports of $350 million, employs 24,300 people, and accounts for 2.2 per cent of GSP. Victoria has the capability and expertise to be the national centre for defence and space-related R&D, design, manufacturing and innovation.

Developing and adopting digital and advanced technologies will continue to give Victorian companies a competitive edge and create export opportunities. The Victorian Government will invest in existing strengths, including advanced materials, and help build capability in other areas of opportunity such as robotics, artificial intelligence and digital transformative technologies
Page last updated: 8 December 2022