Innovation on demand: The Victorian 3D printing company speeding up supply chains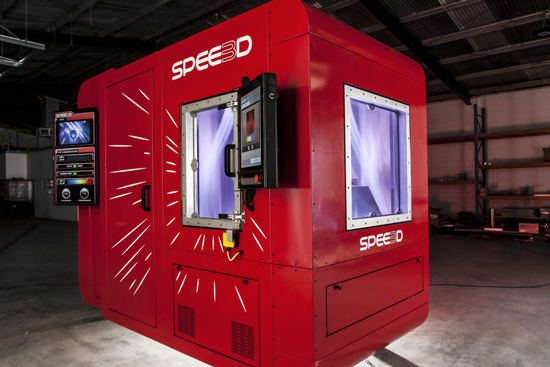 The world's first expeditionary 3D metal printer weighs 10 tonnes and can build essential metal parts within hours - from the middle of a desert or the ocean. And it's made in Victoria.
When someone holds the record for the world's fastest solar car, it should come as no surprise when their new innovation takes off at lightning speed – particularly when that innovation is all about speeding up a historically long process: printing metal parts.
SPEE3D is a 3D printing company based in Victoria. In 2017, the innovators launched their first printer, which uses proprietary algorithms to create a geometry from metal powder – at exceptional speeds. In fact, 1000 times quicker than the competition. How it works is that compressed air shoots metal powder out of a rocket nozzle at three times the speed of sound onto a substrate, building up metal parts in just minutes, making advanced manufacturing easier with entrepreneurship and a sprinkling of rocket science.
The local company has long been seen as a Melbourne success story, but is now becoming an Australian success story, having won the 2022 GOVEA Award for Manufacturing and Advanced Materials (along with global awards like the DSI Expeditionary & Tactical 3D Printing Excellence Award) for their new expeditionary plug-and-play printer.
Before now, SPEE3D's world-leading products required extra equipment like a dust extractor and compressor to be transported separately with the printer. But their new model has rolled these elements into a containerised product - a printer, compressor and dust extractor all in one – requiring zero piggybacked equipment and half the space to transport.
"Once it's dropped onto a site," says CEO Byron Kennedy, "it's literally plug-and-play, giving businesses the ability to manufacture vital components within hours, versus shipping parts in from all over the globe over weeks or months. For sectors like defence, who spend long periods in remote deserts or out at sea, this ability to shorten the supply chain to mere hours is a breakthrough advancement."
Recently, SPEE3D became the first in the world to print metal onto a US navy ship while out on the water - a powerful solution to keep their boats going when they would have otherwise had to stop, potentially stranding thousands of marines out on the ocean or at port for weeks.
"Globally, supply chains remain in a state of flux," says COO Phil Bowles. "This printer allows businesses to reduce inventory and cut costs and risks by literally printing on the frontlines."
This theme runs through to SPEE3D's own manufacturing processes too: "we're fortunate to have a high percentage of local content, with two thirds of our machines made here in Victoria. And the more early adopters we can get on board in other industries, the more we can strengthen that local capability," says Phil.
With grants and recruitment support from the Victorian Government, SPEE3D has grown their team from 14 to 50 over the past few years and taken up residence in their new 4000m2 facility in Victoria, where they're investing heavily in infrastructure, business growth and innovation.
"Around 40% of our salary turnover is R&D," says Phil. "For a small company that's very high, enabling us to lead the way with developing next-gen products faster. We're lucky to have no shortage of people looking to work for us. That's partly because we actively work on our great workplace culture but also because 3D printing is seen as cool among emerging talent."
After setting their sights on global growth in the defence sector, SPEE3D now has its sights set on universities, original equipment manufacturers and the print-on-demand sectors, all of whom could benefit from commercialising the quick turnaround of metal parts.
"One day, we hope you could send your CAD file to your local print bureau that owns a SPEE3D printer, who would have it ready for pickup within hours," Phil concludes.
Page last updated: 16 November 2023