Why Victoria's supply chain is the place to do business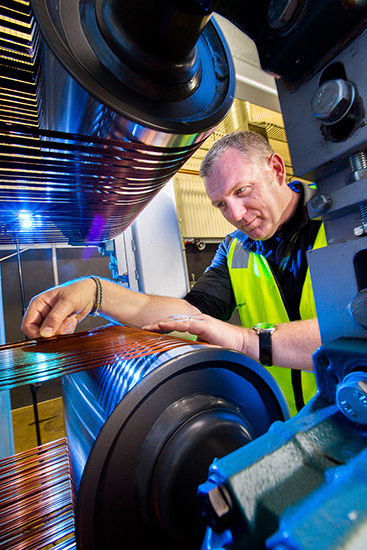 As manufacturers around the world seek to secure diversified supply chains, local and global manufacturers are turning to Victoria for high quality advanced manufacturing and top-shelf innovation - from aerospace engineering and uncrewed aircraft systems to anodising and ancillary parts.
Diversification - ensuring that we're never relying on only one source - plays an important role in supply chain security. With businesses looking at continued geopolitical and economic uncertainty, everyone is asking "where can we diversify to ensure we don't lose supply?"
With the deepest, most diverse and most globally connected supply chain of any state or territory, Victoria is well-placed to meet the needs of local and global manufacturers.
Rohan Stocker, CEO of Moorabbin-based precision engineering company Marand (who developed the world-renowned F35 engine trailer) believes that Melbourne's history as an automotive hub combined with its proliferation of renowned universities also gives the capital city an edge when it comes to the availability of future talent and historical expertise.
"Victoria's capabilities are second to none," he says. "We've got high-tech capability when it comes to physical assets and equipment, but also human resources and spatial capabilities in terms of having a defence [industry] resident in Victoria. We have the land, and the flight test facilities that we can continue to exploit as a world-class solution."
To capitalise on this capability, the Victorian Government is offering a range of investments to onshore essential capabilities, solidify a pipeline of talent and offer even more world-class solutions to local and global manufacturers.
The $20 million Manufacturing and Industry Sovereignty Fund will support the development, expansion and retention of strategic sovereign manufacturing capability.
The $15 million Industry Research & Development (R&D) Infrastructure Fund will incentivise and leverage private industry investment in R&D and complement existing incentive settings.
The Manufacturing Growth Program will assist small and medium sized manufacturers to expand their capacity and capability by implementing new manufacturing technologies, improve productivity and competitiveness in local and global supply chains, create new jobs, upskill and reskill workers and support Victoria's transition towards net zero emissions.
The Made in Victoria - Energy Technologies Manufacturing Program will support Victorian manufacturers to make more products or components that support the state's transition towards net zero emissions by 2045.
Connecting Victorian manufacturers with each other is a vital driver of success - and not just for local markets. Seer Medical, the Victorian company making the world's first automated in-home epilepsy monitory systems, attributes its success to the local manufacturing ecosystem. According to Seer Medical COO George Kenley, "Access to local suppliers and local skills are essential ingredients to the velocity of our innovation."
"We're blessed with world class educational institutions, an abundance of raw materials and renewable energy, and a unique ingenuity in its people. These natural advantages can be transformed into a sustainable competitive advantage for advanced manufacturing, if coordinated and supported by government and industry."
The power of early adoption
Recently, Spee3D became the first in the world to print metal onto a US navy ship while out on the water. This transformative capability means ships can remain active while undertaking repairs, rather than stranding potentially thousands of personnel at sea or in port while traditional repairs are undertaken.
"Globally, supply chains remain in a state of flux," says Spee3D COO Phil Bowles. "We're fortunate to have a high percentage of local content, with two thirds of our machines made here in Victoria. The more early adopters we can get on board in other industries, the more we can strengthen that local capability."
Read more about how the Victorian Government is supporting the state's advanced manufacturing industry.
Page last updated: 16 November 2023