News
Find news of major activities and announcements from across the department here.
For features, insights and stories about the inspiring and innovative people who drive Victoria's economy, go to The Victorian Connection.
Showing 121 to 130 of 270 items.
New world-class clinical trial facility for regional Victoria
Published: 18 November 2021
Geelong will host human clinical trials for groundbreaking medical research and speed up the development of new treatments with Australia's largest clinical trials provider, Nucleus Network, opening its first satellite clinic in the region.
Growing Victoria's mRNA vaccine capabilities
Published: 16 November 2021
World-leading synthetic biology company Ginkgo Bioworks will establish an office in Melbourne, bolstering Victoria's position as the national leader in mRNA research and manufacturing.
Catalyst program helping Victorian startups take the next step
Published: 12 November 2021
The Victorian Government is backing young high-growth companies by helping investors understand how to invest and support early-stage startups to scale.
Backing great ideas to drive regional tourism recovery
Published: 11 November 2021
A major Victorian Government investment fund will back compelling tourism projects across the state that will drive the recovery of regional tourism and grow jobs.
Landmark program equipping mid-career workers with in-demand digital skills
Published: 10 November 2021
More than 70 leading organisations across Victoria have welcomed new digital talent to their teams this month, using a landmark Victorian Government program that is equipping mid-career workers with in-demand digital skills.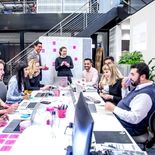 Inaugural Governor's Awards recognise best in startup sector
Published: 10 November 2021
Victorian startups will be recognised for their achievements in the inaugural Governor of Victoria Startup Awards.
Supercharging Victoria's advanced medical manufacturing sector
Published: 06 November 2021
Personalised medical devices such as hips, spines and knees will be made in Victoria thanks to the expansion of a world-class 3D medical manufacturing facility in Port Melbourne.
Building international connections through research
Published: 03 November 2021
Victoria continues to build on its global reputation for education and research excellence through fifteen international research projects on fields as diverse as sustainability, health, advanced manufacturing and digital technology.
The new Brain Cancer Centre opens in Melbourne
Published: 26 October 2021
The Brain Cancer Centre is leading the nation's fight against brain cancer and bringing fresh hope to brain cancer patients and their families.
Jobs boost for Victoria's aviation industry
Published: 25 October 2021
Victoria's aviation industry is set to welcome the arrival of new jobs in aircraft maintenance and engineering as the sector begins to recover from the COVID-19 pandemic and travel takes off again.