Online payments
You can make online payments for the following :
Payment of tax invoices – You should have received an invoice from the department.
Renewal of game licences – You should have received a renewal/payment notice from the Game Management Authority
Licence applications for scientific procedures licences and Specified Animals Breeding Licences – You should have received a payment notice from DJSIR Licensing & Audit (previously DJPR Licensing & Audit).
The online payment service enables customers to:
make a one-off payment
pay by Visa or MasterCard
view and print receipts.
Where do I find my reference number?
The reference number is located on the right hand side under the Remittance Advice of the Tax invoice and Payment Options on the Renewal or Payment Notice. This is indicated by the red circle in the example below.
Click on the image to view a larger version of the notice.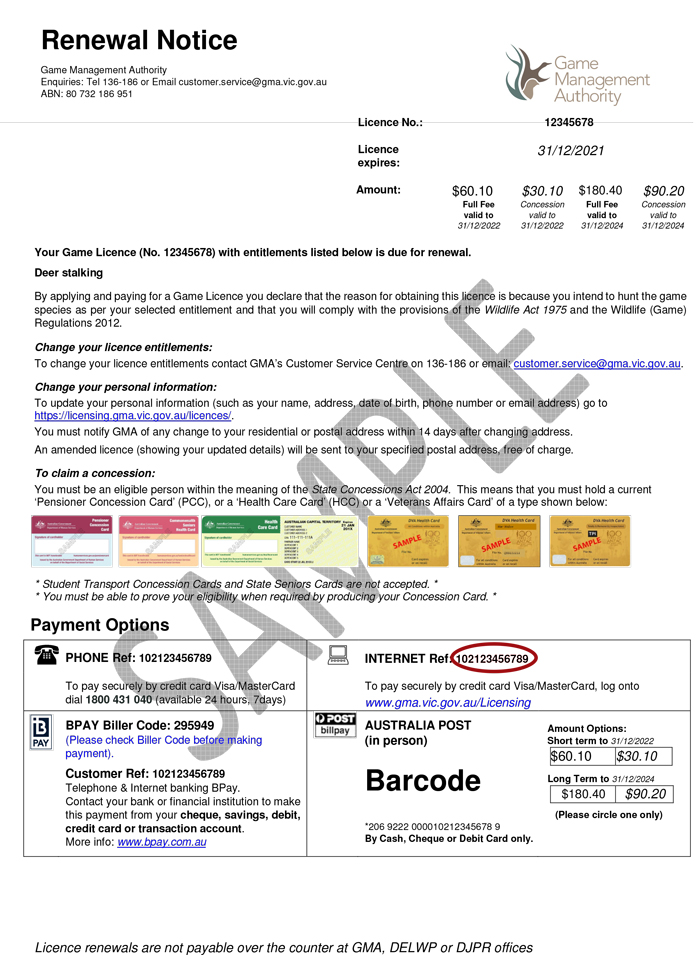 If copies of invoices are required, or any queries on the above services, please contact the relevant division below:
For all other enquiries please email the department or call (03) 8392 7071.
Other payment options
Payment method
Invoice or notice symbol
How to pay
Phone

Phone Ref: 51xxxxxxxxxx

To pay securely by credit card (Visa or Mastercard) dial 1800 431 040 (available 24 hours, 7 days).

BPAY

BPAY Biller Code: 295949

Customer Ref: xxxxxxxxxxx

Telephone & Internet Banking Bpay®
Contact your bank or financial institution to make this payment from your cheque, savings, debit, credit card or transaction account.

EFT
(For tax invoice payment only)

Bank – Westpac
AC name – DJSIR Revenue Account
BSB - 033-222
Account # - 016041

Please quote the invoice number

Cheque
(For tax invoice payment only)

Check Payment number 100*****

Payable to:
Department of Jobs, Skills, Industry & Regions

Send to:
Attn: Department of Jobs, Skills, Industry & Regions
GPO BOX 4509
MELBOURNE VIC 3001
Page last updated: 7 April 2022