A place for all to play in Noble Park
Published: 19 April 2022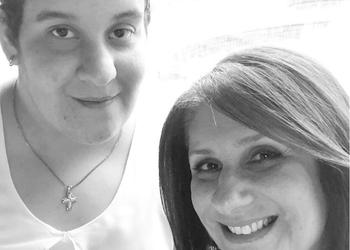 When Nicky Panagiotou watched another mother play with her daughter who has a disability at the Ross Reserve All Abilities Playground in Noble Park, the moment took her back many years.
As she watched mothers and children play on the all-abilities swing, she dearly wished that it had existed when her daughter was a child.
The swing is designed for two people to face each other, allowing children living with a disability to safely swing with their parents or guardians.
"It really did warm my heart," she said.
Nicky's daughter Doria is 22 years old and has an intellectual disability.
Doria loves to socialise with friends and spend time with family, but Nicky says there are often barriers when it comes to deciding where to spend this time.
With a diverse range of equipment that meets her needs, the new playground at Ross Reserve in Melbourne's southeast is now Doria's go-to spot to hangout.
"She said to me, 'Mum, it's really good, it's really big and there's so much to do'," Nicky said.
The pair are both involved in the Bridge, which is a disability and support organisation.
Nicky works in the employment section, while Doria attends programs five days a week.
"I'm passionate about developing the participants' skills, getting them out into the workforce and into the community," Nicky said.
"We've been exploring the playground with the participants, and it's been fantastic," Nicky says, adding that she believes the inclusive playground will be life-changing for many.
The playground opened in November 2021 and is conveniently located between the Noble Park Community Centre and Noble Park Aquatic Centre.
It has a flying fox, trampolines, swings, slides, a sandpit and more. All the equipment is carefully designed to be used by people of all abilities.
"It gives families the pleasure of watching their children be engaged in something that meets their needs, rather than trying to find places where they'll be safe, because I know what that's like," she added.
Nicky and her team at the Bridge are planning an Olympic-themed event at the playground, with potential to extend the invite to the broader community.
The purpose of the event will be to bring everyone together – young and old, and of all abilities.
"For the Bridge participants, we will be using the employability skills they learn, as well as communication, problem-solving and teamwork skills throughout the day," she said.
The event will also show people that there is something out there that caters to their needs and is open to the community."
Ross Reserve All Abilities Playground was developed by the local City of Greater Dandenong council.
It received $2.19 million from the Victorian Government through Sport and Recreation Victoria and the Office for Suburban Development's Suburban Revitalisation Program and is part of a larger project to Park Noble.
"The playground is bringing everyone together – with a common purpose of not only connecting but having fun while doing so."