Creative industries strategy
Creative State 2025
Creative State 2025 is the Victorian Government's four-year strategy to strengthen and grow the state's creative industries, placing them at the heart of Victoria's recovery and future prosperity.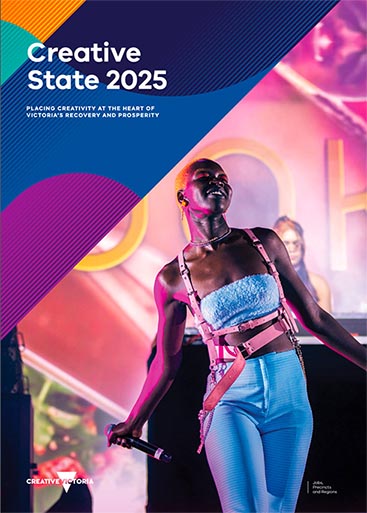 Creative State 2025 builds on the achievements of the landmark 2016 strategy Creative State and is backed by a record $288 million investment over the next four years.
The strategy outlines 25 actions to grow jobs and skills, increase state-wide opportunities for participation and secure Victoria's reputation as a global cultural destination and bold creative leader.
It addresses five strategic objectives:
More and better job opportunities and pathways
Innovative creative products and experiences
Industry stability and growth
Equitable access to the creative industries, and
New audiences and markets.
Creative State 2025 was developed in consultation with Victoria's creative community over the course of 2019 and 2020. It responds to the challenges faced by the sector as a result of the COVID-19 pandemic.
The strategy will be delivered in collaboration with Creative Victoria's First Peoples Directions Circle, a leadership group that embeds First Peoples self‑determination in Victoria's creative industries policy and program development.
The strategy was launched by The Hon Danny Pearson MP, Minister for Creative Industries together with the Creative Victoria First Peoples Directions Circle in July 2021.
Creative State 2025 can be downloaded from the Creative Victoria website.
Want to know more?
Creative Victoria is the state government body dedicated to championing, growing and supporting Victoria's creative industries.
Visit the Creative Victoria website to find out more about Creative State and the Victorian Government's support for the creative industries.
Page last updated: 30 December 2022