Cremorne Digital Hub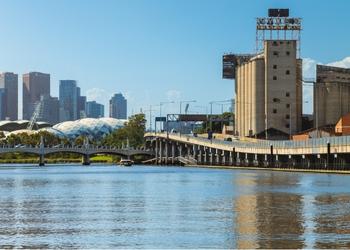 The Victorian Government has invested $10 million to establish the Cremorne Digital Hub to drive the growth of Victoria's tech sector and ecosystem and develop and position the Cremorne precinct as a top global destination for innovation and technology.
The Cremorne Digital Hub brings together industry, universities and investors to enhance collaboration, accelerate research and skills development, build capacity and increase productivity in the precinct and Victorian digital ecosystem.
Delivery of the Hub is led by a consortium of industry partners, including Artesian, the University of Melbourne, RMIT University and La Trobe University. The founding members have appointed a board, made up of representatives from the consortium, industry and Victoria's business community.
Growing talent and skills
The Hub will support talent and skills development through a range of programs such as training and cadetships, vocational education events, and open innovation and education events.
Driving innovation and the digital economy
Entrepreneurial and commercialisation programming will be provided to grow business opportunities.
The Hub will build tech capability and drive innovation and digital transformation through industry partner project opportunities. It will also deliver co-innovation cohort programs and insights workshops.
A $50 million Cremorne Venture Fund will be established and managed by Artesian, supporting the Hub to play an active role in commercialisation by investing in exciting new digital companies that can take Victorian innovation to the world.
Supporting digital capability and innovation in the Cremorne precinct
Cremorne's growth is further supported by key investments from the Victorian Government including:
LaunchVic - Support for startup accelerators to grow digital entrepreneurship.
BoabAI - $1.5 million investment in Australia's first accelerator program for Artificial Intelligence (AI) technology companies to help founders scale their businesses globally.
Australian Sports Innovation Centre of Excellence - $4 million to establish the Centre with the Australian Sports Technology Network, to support Victoria's growing sports technology sector.
The Cremorne Digital Hub is located at 80 Balmain Street, Cremorne.
For more information about the Cremorne Digital Hub, including Hub events and programming, visit the Cremorne Digital Hub website
Why Cremorne?
The Hub builds on Cremorne's transformation from a manufacturing centre to a magnet for high-tech businesses and innovation jobs. More than 700 businesses and around 10,000 workers are already based in the precinct.
With its concentration of tech and creative industries, co-working spaces and startups, Cremorne is a melting pot for ideas and innovation.
Positioned close to Richmond, the Melbourne Sports Precinct and the CBD, the inner-Melbourne suburb has a village feel making it a great place to work and live.
Cremorne contributes $4 billion to the Victorian economy each year and is already home to some of Australia's most successful tech companies which have attained billion-dollar valuations, including: MYOB, REA Group, Carsales and SEEK.
Over the next decade the precinct is expected to boost the state's economy and create thousands of local jobs.
Page last updated: 6 September 2023