News
Find news of major activities and announcements from across the department here.
For features, insights and stories about the inspiring and innovative people who drive Victoria's economy, go to The Victorian Connection.
Showing 111 to 120 of 270 items.
Victoria to become home of mRNA vaccine manufacturing
Published: 15 December 2021
Victoria will become the first place in the Southern Hemisphere to manufacture mRNA vaccines, after the Victorian Government reached an in-principle agreement with the Commonwealth Government and Moderna.
A major win for Victoria's defence industry
Published: 14 December 2021
Australian military vehicles will be built in the Geelong region by Hanwha Defense Australia under a $1 billion defence contract announced this week – strengthening Victoria's defence industry capabilities and creating an influx of highly skilled local jobs.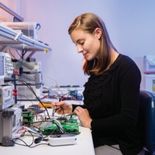 Backing more of our medtech innovators
Published: 14 December 2021
New funding for Victoria's MedTech entrepreneurs will cement Melbourne's reputation as a leader in global healthcare innovation.
Manufacturing of world-first medical device bringing jobs and investment home to Victoria
Published: 07 December 2021
Melbourne-based medical technology company Compumedics will locally manufacture its world-first Somfit medial grade wearable monitoring device in Abbotsford, after a decade of manufacturing offshore.
A bold new agenda to keep Victoria at the forefront of innovation
Published: 01 December 2021
The Victorian Government recently launched a bold new plan to keep Victoria at the forefront of innovation, drive economic growth and create thousands of jobs for generations to come.
Victoria makes Australia's first mRNA vaccine candidate
Published: 30 November 2021
Victorian scientists and manufacturers have created Australia's first mRNA COVID-19 vaccine candidate – Australia's first ever mRNA drug product – in just five months, enabling clinical trials to begin in early 2022.
Sports tech Centre of Excellence helps entrepreneurs connect and grow
Published: 24 November 2021
Professional netballer turned entrepreneur, Sarah Wall, is one of more than 500 business owners benefitting from a centre for world class sports technology in Melbourne.
Breakthrough funding to boost biotech startups
Published: 23 November 2021
Biotech startups in Melbourne are set to benefit from a new incubator in Parkville thanks to a substantial investment from the Victorian Government's Breakthrough Victoria Fund.
International flights take off as Victoria's visitor economy soars back to life
Published: 22 November 2021
National airline carrier Qantas is resuming international flights from Melbourne Airport this week, an exciting step as Victoria safely re-opens to the world.
Support for women in mRNA and medical research
Published: 22 November 2021
Women-led medical research will be prioritised in the Victorian Government's new RNA research acceleration fund and the next phase of the successful Victorian Medical Research Acceleration Fund.