Kangaroo harvesting
The Kangaroo Harvesting Program (KHP) began in Victoria on 1 October 2019 to enable the harvesting of Eastern and Western Grey kangaroos (grey kangaroos) in Victoria. The program provides an alternative to the existing Authority to Control Wildlife (ATCW) system for landholders wishing to control kangaroos on their property.
The KHP helps landholders reduce issues caused by kangaroos on-farm, it makes use of the carcasses and provides an income for the trained harvesters. Problems faced by landholders include crop destruction, competition with livestock and damage to property such as fences.
The sustainability of kangaroo populations is protected by limiting the harvest using annual quotas. The harvesting quota is set taking into account population estimates and the predicted ATCW numbers for the coming year.
Authorised harvesters take kangaroos in a sustainable manner at no cost to landholders. Suitable kangaroo carcasses are delivered to a processing centre where they are processed for food and other products, minimising wastage. Harvesters are accredited in firearm proficiency and game harvester skill sets. They must act in accordance with national standards.
Landholders engage authorised harvesters directly and can request details of authorised harvesters in their area. Landholders wishing to use authorised harvesters do not need to apply for an ATCW.
The KHP operates in accordance with the 2021-2023 Victorian Kangaroo Harvest Management Plan (KHMP):
Authorised Harvesters are subject to the Conditions of Authorisation:
Authorised harvesters are required to act in accordance with the National Code of Practice for the Humane Shooting of Kangaroos and Wallabies for Commercial Purposes.
In 2021, the new Kangaroo Harvest Management Plan 2021-2023 was released.
The plan includes:
the expansion of the program to using kangaroos for human consumption (previously limited to pet food)
the ability to trade interstate for both harvesters and processors where they are legally authorised to do so in the relevant jurisdiction
the Kangaroo Harvest Management Plan 2021-2023 being declared a Developmental Wildlife Trade Operation under the Environment Protection and Biodiversity Act 1999. This will allow kangaroo products collected under the program, such as skins, to be exported overseas.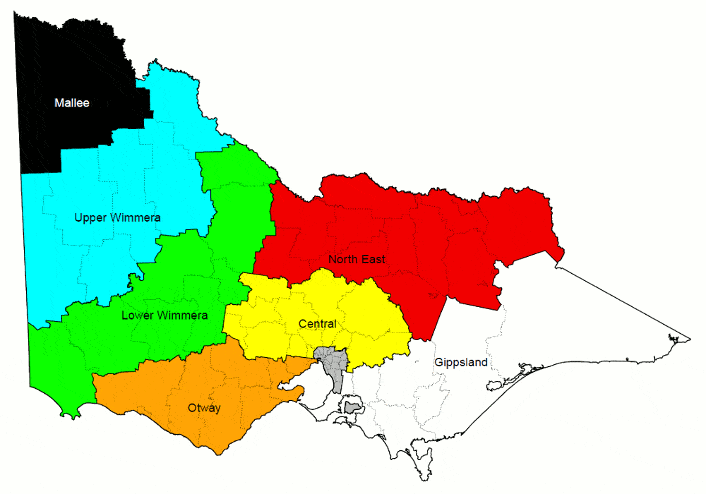 Download the Kangaroo harvest zones map Kangaroo Harvest Zone Map (DOCX 152.78 KB)

There are seven kangaroo harvest zones in Victoria:
Central
Gippsland
Lower Wimmera
Mallee
North East
Otway
Upper Wimmera
See Local Government Areas in each harvest zone Local Government Areas by zone (DOCX 18.15 KB)

Harvesters in different parts of Victoria can apply to harvest in any given zone.
A quota for the harvesting program is set each year and allocations are released in stages throughout the year.
To ensure the sustainability of kangaroo populations, a total recommended take (across the KHP and ATCWs) is determined. The total recommended take is set at 10% of the population.
The KHP quota is based on each zone's estimated population. Zones with a higher proportion of Victoria's kangaroo population will generally have a higher quota. The predicted ATCW numbers within a zone also affect the KHP quota.
ATCWs are considered on a case-by-case basis and not capped, therefore the level of take-up across the two programs is monitored closely. If the level becomes too high, the quota allocations may be revised at the next planned release.
From this quota, harvesters in different parts of Victoria can apply for an allocation which specifies how many grey kangaroos they can harvest in any given harvest zone.
These allocations are strictly enforced, and non-compliance may result in the revocation of authorisation to operate. Non-compliant harvesters can also face significant penalties.
The 2023 quota covers the period from 3 January 2023 to 31 December 2023.
| Harvest zone | Total annual quota per zone |
| --- | --- |
| Central | 65,100 |
| Gippsland | 13,600 |
| Lower Wimmera | 41,100 |
| Mallee | 1,550 |
| North East | 11,050 |
| Otway | 15,500 |
| Upper Wimmera | 18,850 |
| Statewide total (annual) | 166,750 |
Harvesters can apply for a quota allocation in any zone. The allocation will specify how many kangaroos they can harvest and in which zones. Tags (with quota ID) are then posted to harvesters for attaching to kangaroos at the time of harvesting.
Harvesters must only harvest the number of kangaroos they have been allocated tags for, and only in the zones the tags specify.
The quota releases for 2023 are provided below. Quota will be released quarterly. Any quarterly unallocated quota may be rolled into the next quarter's release.
2023 quota release
Harvest Zone
Quota released
Release 1
(Jan-Mar)
Quota released
Release 2
(Apr-Jun)
Quota released
Release 3
(Jul-Sep)
Quota released
Release 4
(Oct-Dec)
Total annual quota
Central
16,300
16,300
16,300
16,200
65,100
Gippsland
3,400
3,400
3,400
3,400
13,600
Lower Wimmera
10,300
10,300
10,300
10,200
41,100
Mallee
550
500
500
0
1,550
North East
2,800
2,800
2,800
2,650
11,050
Otway
4,000
4,000
4,000
3,500
15,500
Upper Wimmera
4,750
4,700
4,700
4,700
18,850
Total quarterly quota
42,100
42,000
42,000
40,650
166,750
The total number of grey kangaroos taken in Victoria will be monitored closely throughout the year. The KHP quota may be adjusted throughout the year to maintain a sustainable take across the KHP and ATCW programs.
Active/non-active
The status of a harvester is assessed per harvest zone. Harvesters must demonstrate activity in the zone they are applying for quota.
Harvesters' initial status per zone for 2023 will be based on their activity in that zone throughout October- December (the last three months of 2022). For harvesters in the North-East and Lower Wimmera zones, status will be based on activity in July-September 2022.
2023 active/non-active criteria
Non-active harvester:
a new harvester
a harvester who has not received an allocation of tags in the last three months for the zone
a harvester who has received an allocation in the last three months for the zone but has not consumed 50% of the total tags issued to them in this three-month period.
Active harvester:
a harvester who has received an allocation of tags in the three months prior to applying for tags and has consumed (used) at least 50% of the total tags issued to them for the zone within this three-month period.
2023 tag allocation rules
The tag allocation rules outlined below will apply to all harvesters for 2023.
Tag allocation rules minimise harvesters from stockpiling unused tags.
| Demonstrated harvest status | Maximum tag allowance |
| --- | --- |
| Non-active Harvesters1 | Maximum 50 tags, per zone |
| Active Harvesters2 | Maximum 200 tags, per zone |
1 Non-active Harvesters will not be issued any quota for the Mallee zone.
2 Active harvesters can only apply for a maximum tag allocation of 100 tags for the Mallee zone.
Wherever possible, harvesters will receive the quota they have applied for, if eligible. Demand and supply constraints in some zones may mean that the quota received is less than what was applied for.
Before being able to apply for subsequent tag allocations, the harvester must have consumed (used) 50% of the previous tags issued to them for that zone.
On 1 February 2020, the Meat Industry Act 1993 was amended. As a result, vehicles used in the harvest, processing, storage or transport of kangaroos for pet or human food or other commercial products, must be licensed with PrimeSafe.
For further information on these regulatory changes visit the PrimeSafe website.
To get involved in the program as a harvester, you will need to register through Service Victoria.
Please ensure you are using Chrome as your browser when registering or logging into their system.
Log in as an existing Service Victoria user
You will need to provide evidence of appropriate training including:
Firearm Proficiency training
Harvesters will need to provide a certificate of completion from a Registered Training Organisation stating that they have completed Firearm Proficiency training and have undertaken an accuracy test within the last five years.
Sporting Shooters' Association of Australia (SSAA) Victoria offers the Commercial Kangaroo Firearms Proficiency Accreditation Course.
Game Harvester Skill Set
Harvesters will need to provide a certificate of completion from a Registered Training Organisation stating that they have completed Game Harvester Skill Set training.
PrimeSafe accreditation
Harvesters will need to provide evidence of a harvester vehicle licensed with PrimeSafe. Interstate licences from relevant meat industry regulators are accepted.
Assistance
For help registering or using the Service Victoria App, access our Guide for Harvesters Guide for Harvesters (DOCX 40.67 KB)

For any enquiries about import or export permits please email the wildlife licensing team at wildlife.licensing@delwp.vic.gov.au
Frequently asked questions
For more information for processors and harvesters, see the following documents:
To get involved in the KHP as a landowner, you will need to register through Service Victoria.
Once registered, you can request a list of currently authorised harvesters who have expressed an interest in operating in your zone.
It will be up to you to make direct contact with harvesters to organise a time and date for harvest.
Landowners are required to provide written consent to an authorised harvester to harvest grey kangaroos on their property.
Also, they should request evidence from the harvester that they have appropriate public liability or indemnity insurance.
The authorised harvester e-licence on the Service Victoria app is sufficient proof of authorisation for processors and landowners.
Download the Consent form for landowners Consent form for landowners (DOC 715.5 KB)

Frequently asked questions
For more information, refer to the following document:
If you have a wildlife problem on your property, you can apply for an ATCW to control wildlife that is:
damaging buildings, pasture, crops or other property
posing a risk to human health and safety
damaging the environment.
If you require an ATCW, you must complete and sign an ATCW application form and submit it to the Conservation Regulator (DELWP) according to the locations listed on the form.
For more information on ATCWs, see wildlife management and control authorisations.
Follow all instructions, signage and park where directed.
Before entering or leaving a property, ensure your vehicle, equipment, footwear and clothing are clean, free of any visible dirt or contaminants, and, if possible, disinfected or washed away from livestock or crops.
If entering certain areas, you must use provided equipment or clothing if asked.
Minimise contact with livestock, crops and plant materials, and only enter authorised areas.
Contact information
For all queries, complaints and concerns relating to the Kangaroo Harvesting Program, please contact us:
Phone: 136 186 (between 8am and 6pm Monday to Friday)
Page last updated: 30 June 2023