News
Find news of major activities and announcements from across the department here.
For features, insights and stories about the inspiring and innovative people who drive Victoria's economy, go to The Victorian Connection.
Showing 81 to 90 of 270 items.
Dinner and a show – statewide dining and entertainment rebate program goes live
Published: 29 March 2022
The $60 million Victorian Dining and Entertainment Program went live on Tuesday 29 March, offering consumers 25 per cent back on dining and entertainment purchases.
Improved connectivity in 54 locations across Victoria
Published: 29 March 2022
Thousands of households and businesses will have access to improved connectivity as upgrades to fibre broadband get underway across the state.
New US route brings more tourists and jobs to Victoria
Published: 29 March 2022
A new route and expanded services to the United States (US) will bring more visitors to Victoria, boost trade with the world's largest economy and create local jobs.
More A380s return to boost international flights
Published: 25 March 2022
The Victorian Government is supporting Emirates to help fast-track the return of international flights and tourists back to Melbourne.
New travel vouchers set to bolster Victorian tourism
Published: 22 March 2022
The popular Victorian Travel Voucher Scheme returns tomorrow, with 140,000 vouchers up for grabs.
Australian-first sick pay guarantee for casual workers
Published: 16 March 2022
Victorians who work in casual or other insecure jobs will no longer be forced to choose between a day's pay and looking after their health thanks to the Victorian Sick Pay Guarantee.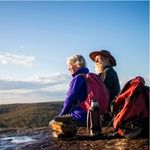 Victorian and Senior Travel Vouchers
Published: 15 March 2022
Victorians have the chance to snap up one of 150,000 travel vouchers, with the popular scheme returning as part of a $200 million business stimulus package to support local economies and jobs.
New funding to support Victoria's medtech manufacturers
Published: 09 March 2022
A new Victorian Government grant program will help grow medical technology (medtech) production in Victoria, creating new high-skill jobs and cementing the state's reputation as a global leader in healthcare innovation.
Blood donors sought for new COVID-19 research biobank
Published: 05 March 2022
Calling out for Victorians willing to roll up their sleeves and donate blood for a research initiative into COVID-19.
Gippsland's new home for performing arts
Published: 02 March 2022
The Gippsland Performing Arts Centre and surrounding creative precinct will electrify the region's arts scene and provide world-class training opportunities.