News
Find news of major activities and announcements from across the department here.
For features, insights and stories about the inspiring and innovative people who drive Victoria's economy, go to The Victorian Connection.
Showing 41 to 50 of 281 items.
Charging up more electric vehicles in Victoria
Published: 10 October 2022
JET Charge, a local electric vehicle (EV) charging company is expanding its operations in the Fishermans Bend precinct and growing its charging network across the state.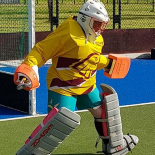 Future of hockey in good Stead
Published: 07 October 2022
The announcement of Stead Park as a 2026 Commonwealth Games host venue has local hockey legends in Geelong excited for future generations of their game.
mRNA Victoria Gold Award from the International Economic Development Council
Published: 29 September 2022
Washington DC based International Economic Development Council has awarded mRNA Victoria the Excellence in Economic Development Gold Award for its work developing an mRNA ecosystem in Victoria.
New Drysdale library connects to the past
Published: 26 September 2022
Drysdale's town centre is getting a new centrepiece in the shape of a circular, terraced library which takes design inspiration from its history as a gathering place.
Supporting new medtech innovation
Published: 15 September 2022
Regional clinicians, researchers and manufacturers will benefit from a new acceleration program through a partnership between the University of Melbourne and Bendigo Health.
Backing Victorian exporters to seize global opportunities
Published: 08 September 2022
The newly released Global Victoria = Your Export Partner outlines the opportunities and services available to Victorian businesses looking to expand into new international markets.
Helping our digital health manufacturers take on the world
Published: 07 September 2022
Our digital health manufacturers are taking on the world, creating better health outcomes.
International Education Recovery Plan 2025
Published: 06 September 2022
Victoria's strong position as a world class education partner and study destination is being backed by a new plan to support international education recovery and attract the best global talent.
Strengthening Victoria's defence supply chain
Published: 06 September 2022
Applications are now open for the Supply Chain Uplift Program, helping Victorian manufacturers and businesses to compete for and win lucrative defence contracts, securing local jobs and boosting our economy.
Cultural ambassadors ready to take Victoria to the world
Published: 05 September 2022
The Shepparton Art Museum is home to a stunning collection that tells great Australian stories and has the potential to share our culture with the world.