Procurement complaint management procedure
The department is committed to transparent and accountable practices when seeking goods and services from suppliers. The department is committed to ensuring its procurement processes work effectively and fairly for all parties. The department advertises its tenders on the Tenders Victoria website.
The department has developed a Procurement complaint management process to ensure that any potential suppliers who may have concerns relating to a procurement process conducted by the department can have those concerns addressed through an independent review process.
If you are involved in any procurement conducted by the department and wish to lodge a complaint about the process you should write (by letter or email) to the department's Procurement Director. If you wish to discuss the basis of your complaint before lodging it, you can also call the contact below:
Daniel Rodger
Chief Procurement Officer
Level 13, 1 Spring Street
Melbourne, VIC 3000
Email: daniel.rodger@ecodev.vic.gov.au
The written complaint must set out:
your name and/or organisation's contact details
the procurement that the complaint relates to
the basis for the complaint specifying the issues involved
how the subject of the complaint and the specific issue affects you or your organisation
any relevant background information
the outcome desired by you or your organisation.
The department will acknowledge your complaint within five (5) working days of its receipt and will seek to address the complaint within 20 working days of receipt. You may be contacted for further information and/or clarification of your concerns. If longer than 20 days is anticipated to be required, you will be advised accordingly.
All complaints submitted to the Department will be reported annually to the Victorian Government Purchasing Board (VGPB) for publication in their Annual Report.
If a satisfactory resolution to your complaint could not be reached, the department must inform the VGPB within five (5) days. If you are dissatisfied with the department's response to your complaint and it relates to a goods and services procurement, you may refer the matter to the VGPB for review via email at: vgpb@dtf.vic.gov.au or via letter addressed to the VGPB Board Chair at:
Victorian Government Purchasing Board
Department of Treasury and Finance
GPO Box 4379
Melbourne 3001
The complainant must provide the VGPB with the following material:
Evidence that the department did not correctly apply supply policies in relation to a procurement activity;
Evidence that the department's complaints management procedures were not applied correctly; and
A copy of all relevant correspondence between the complainant and the department in relation to the nature of the complaint.
Services providers should also be aware that there are other government bodies who may be able to assist you with your enquiry. Please see the links below for more information:
Below is a diagram outlining the procedure.
Procurement complaint management procedure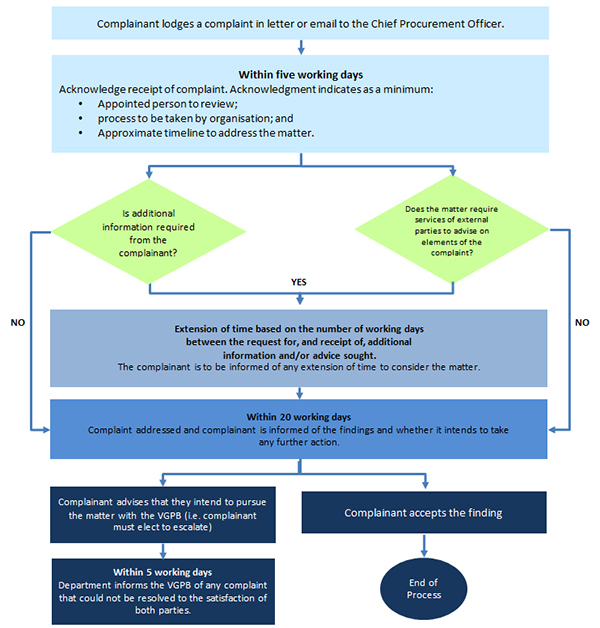 Page last updated: 27 June 2022